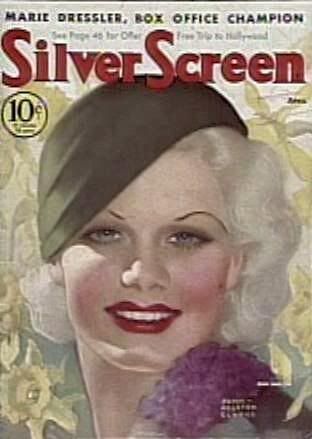 I was going to take a picture of all the chaos around my house; and my pin-curled and covered with a scarf head...but I decided Jean Harlow is much prettier!
For a classic movie aficionado, I've somehow managed to avoid ever seeing a movie starring Jean; probably because my taste in classic film runs more to the mid-to late 40's Film Noir up to the early 60's; and poor Jean died at the absurdly young age of 26, in 1937 (a fact that I had to google, after trying to figure out why I had never seen a Harlow film). Last night, while folding laundry and packing, I watched a movie I had DVR'd; "Hold Your Man" which starred Clark Gable, whom I love. It was a very early film, 1933; and I was amazed to see the styles of hair and clothes, and how much life has changed (and not changed) in 78 years. The vernacular was too funny, several characters, including the train conductor said Cincinnati like this "sin-sa-NA-ta"; which is something I've never heard before and found interesting. Could those two people act or WHAT! The chemistry was amazing, I love Clark Gable and hated him in "Gone with the Wind", because I think it wasn't the best casting choice, both for the fictional Rhett Butler, who I heart, and Clark Gable, whom I also heart to pieces.
Anyway, I'm standing here in my kitchen, blogging; when I should be loading the car; but I wanted to pop in and post because I probably won't be doing a whole lot of blogging in the days to come. Although, who knows, I may blog my head off about Disneyland!
Have a great week everyone, and wish me luck while I drive for 16 hours with five children across the wilderness!