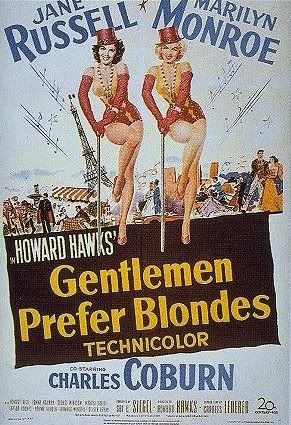 I heard yesterday that Jane Russell, brunette foil to Marilyn Monroe in 'Gentlemen Prefer Blondes', passed away at age 89. This is a bit of a departure for my blog, but 'Gentlemen Prefer Blondes' is one of my favorite movies, and I just had to comment. I grew up hearing that term, and saw the movie poster many times, but I didn't actually see the movie until I was an adult. It is one of those movies that "they" just don't make anymore, a truly funny comedy with a great plot, and Jane Russell made the whole movie work! As much as I loved Marilyn Monroe, she was not the greatest actress and needed someone like Jane, with her sarcastic quips and impeccable timing to act as the "straight man" for her character, which was the usual ditsy blond. As a lover of vintage fashion, I also love this movie for the clothes; and since it is in Technicolor, the fifties' odd color combos are on full display, including a rather obnoxiously purple dress on Marilyn's character, which somehow manages to work; as well as my favorite outfit; a chic black bathing ensemble which Jane's character wears during a musical number. I only wish they made bathing suits like that still; this black number acts as it's own girdle, and flattered Jane's famous figure perfectly. I also loved, loved, loved the character played by a
fantastic
young actor, who dryly delivers some of the best lines in the movie. Whenever I see the movie, I always wish I could adopt this boy; nevermind that he must be in his sixties by now! I have this movie on DVD, and I think I will watch it again in honor of Jane Russell.
Enough of playing at movie critic, what is really on my mind today is how much I have to do before leaving on our vacation on the 24th! It is rather alarming; including minor details like sewing several pieces of clothing, going through all the summer clothes for the boys, buying any deficiencies, buying clothes for James, figuring out how to fit enough luggage into our limited cargo space, car tune-up.....and on, and on, and on. I will just have to triage, do what I can do and not worry about the rest!
I am also
thrilled
that it is March; winter feels over, although March is a notoriously blustery month in Idaho, it is still much better, because it holds the promise of Spring!
Happy Wednesday!