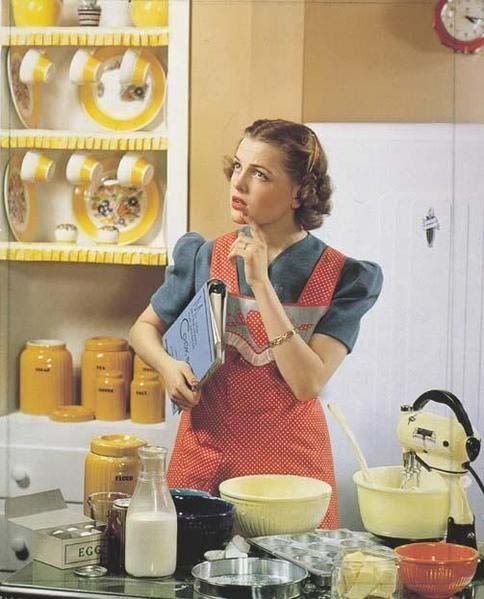 This picture is a quick snapshot, of me, in my kitchen in all my red apron-ed glory....I wish! Ah, for those yellow dishes! I love yellow dishes! Unfortunately my kitchen is not as darling by half. Today is Thursday, which means that tomorrow my Andrew will be selling homemade bread for the mock economy in his classroom. My bread is in high demand there; probably because it is bought with mock money; so I try to make at least 6-8 loaves for him to sell. And that's on top of the bread I'm supposed...I mean
am
making for everyday use. I also am extremely backed up in the soap department, so today's tasks include one batch of Patchouli soap...which is done; and I have three loaves baking in the oven as we speak.
And it shows. I have developed a system for making the most of my tiny kitchen and limited mixing and oven space. I make one batch of bread which makes 3 loaves, using the recipe I posted earlier, let it rise
in the mixing bowl
for about an hour; then when it's risen, I take it out and immediately start another batch of bread in the mixer, then form the
first
batch into loaves, repeat until exhausted and covered in flour. If I do this properly, I should have one batch rising in the bowl, one batch rising on the baking sheet, and one batch in the oven. Unfortunately I am terribly behind today, and at this rate will not be able to fill my kitchen from floor to ceiling with bread; although I
am
exhausted and covered in flour....
Off to bake more bread!
Happy Thursday!