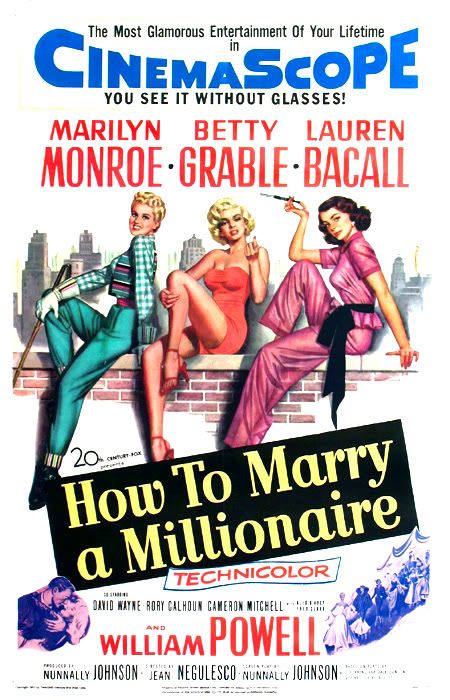 Of course, the "material" I'm talking about is the fabric kind! I've been working with glorious silk charmeuse fabric for my mother's wedding dress; it's a great pale, pale, yellow color (her favorite); and as delicate as tissue paper! At first I was wary of even cutting into it, but after working with it for a while, I realized that since it's 100% silk, it is much sturdier than it looks and it behaves quite well; clinging to the other layer when sewing, unlike cheap synthetics that are a nightmare to hold together! I've been staying up quite late sewing (or early, rather), and the other night watched another of my favorite classics; "How to Marry a Millionaire". It's very much in the same vein as "Gentlemen Prefer Blondes"; with good comedy, and the straight woman Lauren Bacall to act as a foil for Marilyn Monroe's signature ditzy blond character. My favorite line is when the girls were discussing how to "catch" a rich man; one asks "Do you marry him?" and Lauren's character answers, "Honey, if you don't marry him; you haven't caught him, he's caught
you!
".
Whew! I feel like I've been neglecting my blog lately (because I have). I feel like I'm always talking about how busy I am; and really;
busy
doesn't begin to cover it!
Ooh! Ooh! I'm really excited because yesterday I got a lovely message from a woman who has a shop
Flossie Fern's Vulgar Medicinals
where she makes lovely things with adorable names; she's a trained herbalist and makes all manner of balms and salves, and something called "Tea and Strumpets" dry shampoo! Her whole shop makes me happy!
So, after justifying the expense six ways to Sunday; I purchased these lovely items from her; for myself I got a tin of this sweet
Knee Rouge
which is a really great multi-purpose rosy cream balm (but I
must
use it to rouge my knees; because I can't resist); and a product that James actually needs *don't click the link, my dear husby; it's a surprise*. The rest of you can feel free to click away and see what I got for a
Gift for James.
I love being able to buy little lovely trinkets like these; I find more joy in the little inexpensive items than I ever do in the big things. I remember when our refrigerator was on it's last legs last summer; I would have kept on dealing with the issues it had, but James was determined to get a new refrigerator at last and took me appliance shopping. It was horrible! I was very glad and felt lucky to get a new appliance, but the whole process was stressful and I would have preferred buying something like these little things; instead of breaking out in a cold sweat over the expense of a big ticket item! The saleslady even remarked that I didn't seem excited about getting a new refrigerator, and James and I were switching up the usual roles of husband and wife; he excited about shopping, and me wanting to run away and never come back! I guess I'm not really a material girl, and I certainly didn't go about trying to marry a millionaire!
The wedding dress is coming together; and I'm trying to ease my workload by not being as much of a perfectionist and delisting some of the items that are running low, instead of working through the night to restock my store. I have a Farmer's Market to prepare for, and that has to take priority right now. It does sting to feel like I "should" be doing more things and recognizing that I simply can't. I've heard the saying so many times, "you can only do what you can do", which seems so cliche, but is really meaningful. I always feel the need to push myself further and further, and I know I need to back off some so that I can still enjoy family time and perhaps eventually, sleep! I keep telling myself this refrain, "Just make it to May"; since all my most pressing issues will be done or under control by then, just so long as April doesn't speed by even more quickly, I should make it!
Have a great Wednesday everyone!